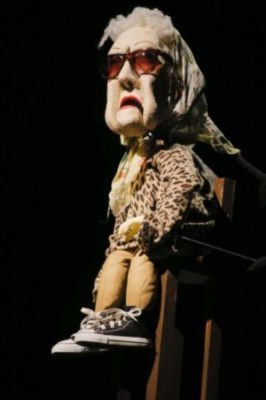 Description
Blind Summit's Citizen Puppet at The Edinburgh Festival Fringe 2015
Paddy Cuthbert worked with us on our production of Citizen Puppet at the Edinburgh Fringe 2015. He was delightful to work with and skilled at bringing us very good press on a show that we were still making after the first night.

Because the show was unfinished when it opened he came back to see the it several times as it developed and was happy to keep the press up to date on the situation.

For me the hardest part of working with a press officer is managing the gap of our expectations and what is possible. I imagine that the same relationship exists between him and the press. Paddy did this perfectly.

The show was in the running for a Fringe First award and eventually, three weeks later, won. The situation could have made us very tense and Paddy kept us properly informed without ever letting us get worked up.

He was always supportive, transparent, managed our expectations brilliantly and gave us very good strategic advice.

We will definitely work with him again and I strongly recommend him.
Mark Down, Artistic Director, Blind Summit
Paddy came recommended to us through one of our trustees, and I would have no hesitancy is repeating this recommendation.

We are a very small company, and have no specialist marketing and press staff. Paddy took a huge amount of stress out of the process: requesting information in a clear and broken down way, being flexible to our timelines and giving us clear expectations of what we could achieve.

He was extremely understanding of our devising process which resulted in information about the show constantly changing! He never seemed phased by this, or pushed for information we couldn't provide.

He suggested a real range of ideas and activities that we could do, and material we could provide, which would support his campaign. He was very reactive to ideas that we had.

I was very pleased by the level of support. We never had to chase him, and felt up to date on information at all times – which for me as Producer is one less ball I have to keep in the air!

I very much hope that we have the chance to work with him again.
Stephanie Weakes, Producer, Blind Summit